Manuka Honey
Manuka is a unique variety of honey that comes from only one place in the world. Within the country of New Zealand there are forests of the Manuka Tree (Leptospermum scoparium). Honey bees use the nectar from the flowers of the Manuka Tree to make this incredible honey. This is both a very rare and sought after variety of honey because of its superior health benefits.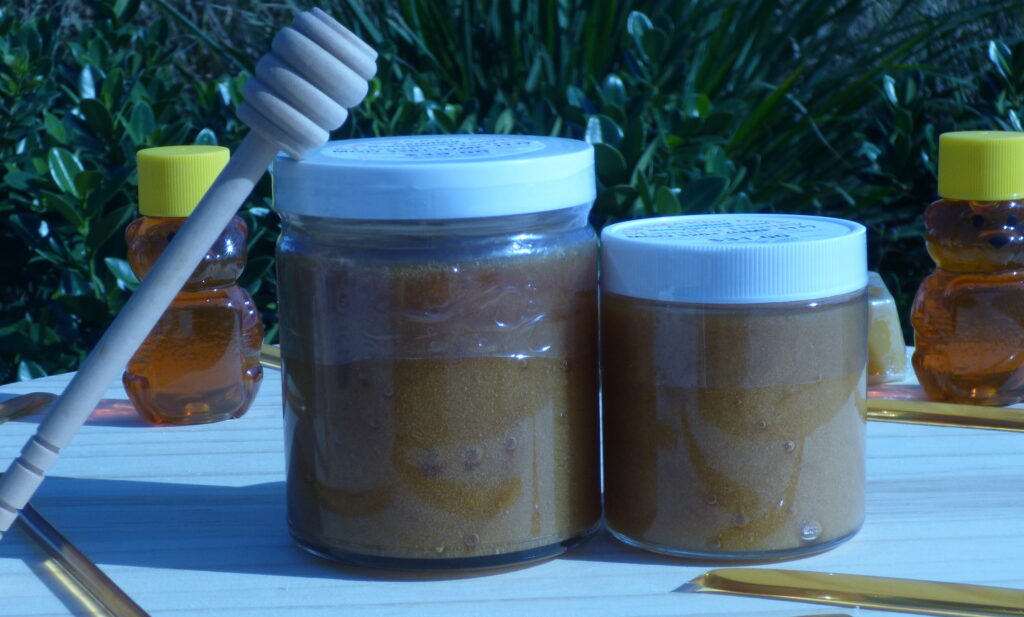 Health benefits
Scientists have been studying the unique characteristics of Manuka honey to better understand its health benefits. Manuka honey has very strong antimicrobial properties. These properties make it useful for healing wounds, sore throats, oral health and digestive issues. Multiple studies have shown faster healing times when Manuka honey was applied to diabetic ulcers. The antibacterial properties have also shown to improve oral health including helping to control the bacteria that can cause gingivitis.
Internally, the antibacterial properties have shown to inhibit the growth of bacteria that can causes issues such as stomach ulcers. Manuka honey also exhibits antiviral, anti-inflammatory and antioxidant effects. This combination of benefits can be utilized for a myriad of health issues that are result from these types of pathogens.
What makes Manuka different?
One of the unique properties of Manuka honey that makes it different from regular honey is the high amount of a compound called Methylglyoxal (MGO). This comes from the high concentration of organic compounds found in the nectar of Manuka flowers. Additionally, Manuka honey is similar to any raw and unfiltered honey in that it gives off hydrogen peroxide when exposed to moisture. This combination of natural components makes this honey a powerful health remedy.
Manuka Honey Ratings
Manuka honey can vary in the potency of MGO which affects the strength of its health benefits. There is more than one rating for potency. The most common ratings are either MGO or UMF (Unique Manuka Factor). This potency must be tested to ensure it meets the official global standards before it can be labeled as true Manuka honey. This standard for Manuka honey comes from the New Zealand government's Ministry for Primary Industries (MPI) and was signed into law in 2018.
MGO
The MGO rating is a measurement of the quantity of Methylglyoxal in the honey. A higher rating indicates a higher concentration of MGO in the particular honey. Higher MGO levels correlate to improved antibacterial and healing properties. These rating can reach as high as MGO 550+ but you should look for a minimum of MGO 100+ for it to provide any antibacterial activity. A rating of MGO 350+ would be considered to have high antibacterial activities and MGO 550+ would be very high activity.
UMF
Another recognized rating standard is UMF which stands for Unique Manuka Factor. A UMF rating goes beyond just the level of MGO, it also includes the level of two other important components Leptosperin and Hydroxymethylfurfural. Measuring the level of Leptosperin is important because it is an indicator that the honey is actually Manuka instead of something else. The level of Hydroxymethylfurfural (HMF) is also important as too much of it can indicate that the honey has been heated or adulterated. The level of these three components (MGO, Leptosperin, and HMF) are combined to determine its UMF rating. A higher rating is associated with higher quality Manuka honey but look for at least a rating of UMF 10+ to ensure you are getting health benefits.
Uses of Manuka Honey
Manuka honey can be eaten alone by the teaspoon or can be incorporated into any meal or as a boost to your smoothie, acai bowl, or yogurt. This honey can also be incorporated into any skincare or wound-care regimen.
Taste of Manuka Honey
Manuka honey has a familiar honey taste with a nice sweetness with some earthy overtones. This honey will naturally darken over time which will add some additional boldness to its taste. Manuka honey is slightly more textured or crystallized than other bottles of honey.