When you think of organic foods, some of the first items that come to mind are fruits and vegetables. This designation of organic can also extend to the honey that bees produce from collecting the nectar from these organic fields. In theory, organic honey would be as simple as that, but when you throw in hives of thousands of bees that routinely travel for miles to find nectar then the difficulty of producing organic honey becomes apparent.
USDA Organic Standard
The fact is that the USDA which is the officiating body for organic certifications in the United States has not established an official set of rules and regulations for organic honey specifically. People that want to certify their honey as organic are forced to use the rules that were established for livestock. Although honey bees themselves are not considered livestock there are some fundamental rules that can be applied. These include restrictions on what they eat, the use of pesticides and antibiotics, where they live, and how what we eat is processed and handled.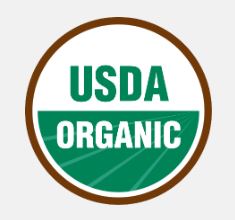 Organic Honey made in the USA
In addition to a lack of formal regulation, organic honey is very difficult to produce in this country. One of the biggest factors is the lack of large enough expanses of certified organic land for the bees to forage. Bees will regularly travel for 2 – 3 miles around the hive to find sufficient sources of nectar. Organic fields of this size that also produce honey are not very common in this country. The small quantities of organic honey that is produced in the US are usually from small farms that are surrounded by features such as nature preserves or bodies of water that do not interfere with the organic land.
Where does organic honey come from?
Geographically
Most of the organic honey that is found on the store shelf comes from Brazil, Mexico, or some parts of Asia. The biggest exporter of organic honey is the country of Brazil which benefits from many factors that help it produce this type of honey. One of these factors is the vast expanses of natural areas that require no human intervention with things such as pesticides to maintain. Also, there are large plantations of eucalyptus trees which can support large commercial beekeeping operations and require minimal use of pesticides.
Type of Bees
Additionally, the majority of the bees in Brazil have become Africanized which makes them much hardier so there is little need to treat them for pests like Varroa mites or disease like foulbrood. In fact, Africanized bees were first introduced to the continent through Brazil when a beekeeper imported then accidentally released Africanized queen bees into the wild. The spread of Africanized bees initially caused problems and decreased honey production but once beekeepers learned to work with these bees the trend reversed.
Global Regulations
The last major factor is the strength of each countries' own standards for certifying their own honey as organic. Each country will create their own standards that define the various parameters that honey must meet in order to be classified as organic within their own country. These parameters include measures such as purity, contamination levels, and byproducts that can indicate mishandling. A comparison of different sets of standards from various countries will show some differences. For example, the amount of Hydroxymethylfurfural (HMF) allowed in a sample which can indicate how fresh the honey is and will increase overtime ranges from a low of 40 mg/kg in Europe, 50 mg/kg in Japan, to a high of 60 mg/kg in Brazil. There are multiple examples of parameters that are easier to certify to in Brazil than other parts of the world, which might make you question just how organic this honey is?
How honey gets certified as USDA Organic
To be certified as USDA Organic, honey must first meet its individual country's requirements which we previously stated will vary greatly from place to place. It must then be certified by one of the various 3rd party agencies in the US but, because the USDA has yet to create standards for honey they utilize a set of standards that are intended for organic livestock.
Conclusion
The purpose of producing food organically is to protect the natural resources, ecology, and avoid exposing the user to chemical such as synthetic pesticides.  Unlike other organic food, bees cannot be controlled or tracked to ensure they are only following organic practices.  Additionally, any honey that is marked as Certified Organic must be questioned due to the lack of any USDA standards or regulations specifically for organic honey.  If you are looking for the best quality honey then an organic label may not be your best measure.  Your best quality honey will come straight from the beekeeper at your local farmers market.