How does honey help?
According to several studies, raw honey may be beneficial for people with COVID-19 through its many ways of boosting the immune system. Additionally, honey and other nutrients that bees make in the hive have been proven to contain powerful antiviral and antibiotic properties.
COVID-19
As of now, the COVID-19 pandemic has been ongoing for two years, with the Omicron and Delta variant currently causing a 4th wave in many places. Honey should be included with various other options for maintaining your health during this pandemic. This is even more important among the immune-compromised and those that choose to be unvaccinated or are in frequent contact with many people.
Health benefits of honey and manuka honey
Honey is a good source of healthy compounds such as vitamins, antioxidants, and minerals like calcium and zinc. The healing strength of these compounds is generally the same except for a unique type of honey from New Zealand called Manuka honey. Unlike other honeys, manuka honey has high levels of Methylglyoxal (MGO) which acts as an antibiotic that is so strong that it is FDA approved for treating patients with wounds. More info about manuka honey.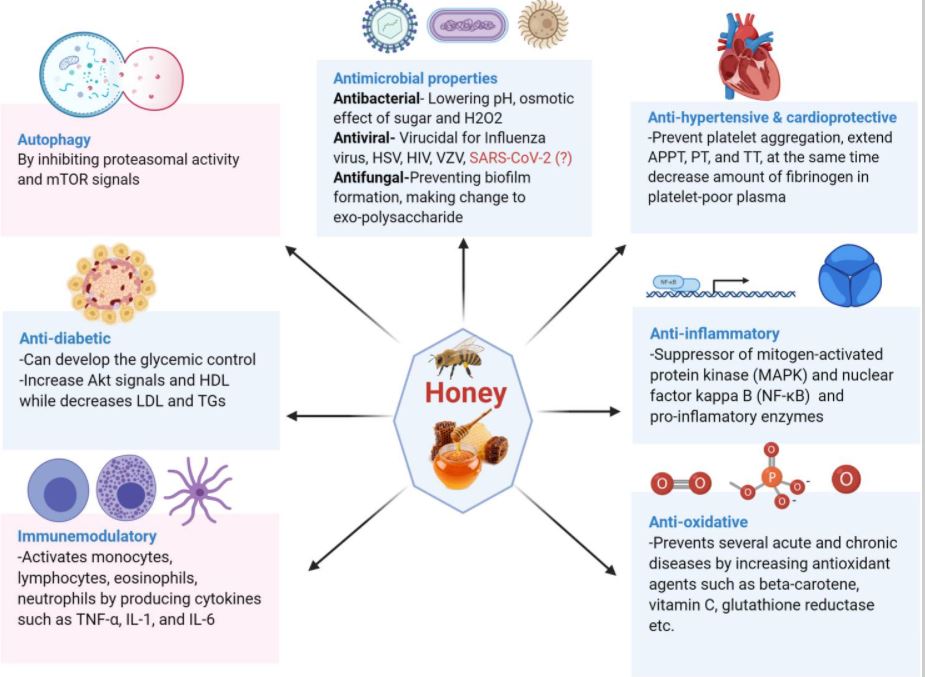 Honey for cough and sore throat
Many health institutes also recommend honey as a treatment for cough which is one of the most common symptoms of COVID-19. Honey can also help soothe a sore throat and can be mixed with tea or warm lemon water for additional comfort.
Honey dosage
A spoonful of honey can be taken daily for general health benefits and increased as needed when sick. The honey should be raw and unfiltered, so the healthy compounds have not been destroyed or removed. This is often done to alter the look and taste of honey for unsuspecting customers at big-box grocery stores. Manuka honey dosage is less than standard honey due to its higher strength which ranges from Regular strength of MGO 350 to High strength MGO 550.
Propolis for treating COVID-19
Propolis, is a resinous material made by honey bees from plant material and has long been used in traditional herbal medicine. Propolis is widely consumed as a health aid and immune system booster. One study found that hospitalized COVID-19 patients receiving green Brazilian propolis or a combination with honey exhibited earlier viral clearance, symptom recovery, discharge from the hospital as well as less mortality than counterparts receiving standard care alone.
CBD for treating COVID-19
A recent study from Oregon State University found cannabinoids were helpful in treating and preventing COVID-19 by preventing the coronavirus from entering human cells. The study found that cannabinoids like CBDA had spike proteins that were similar enough to the SARS-CoV-2 spike protein to prevent the virus from entering human cells. CBDA is found in full spectrum CBD and the study was conducted with orally ingested cannabis because heating would essentially inactivate the compounds.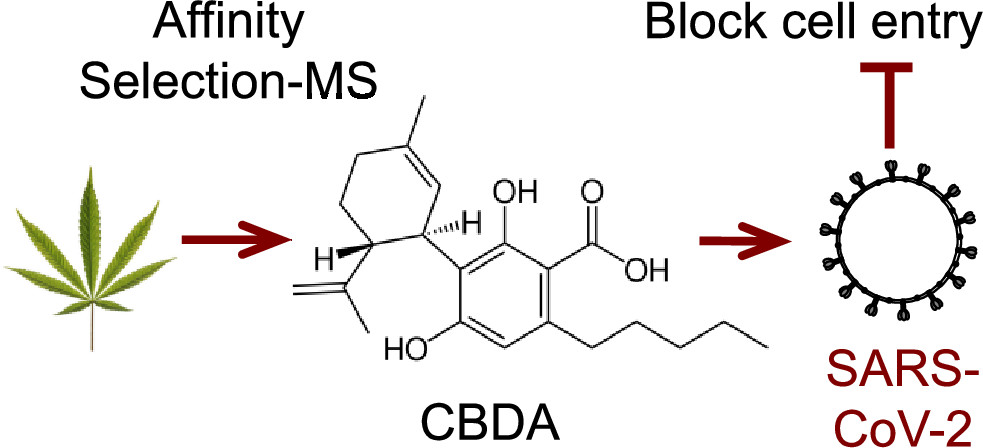 References
Prospects of honey in fighting against COVID-19: pharmacological insights and therapeutic promises
Heliyon. 2020 Dec; 6(12): e05798.Published online 2020 Dec 21. doi: 10.1016/j.heliyon.2020.e05798
Efficacy of Natural Honey Treatment in Patients With Novel Coronavirus
Mahmoud Ahmed Tantawy, Misr University for Science and Technology
Propolis and its potential against SARS-CoV-2 infection mechanisms and COVID-19 disease: Running title: Propolis against SARS-CoV-2 infection and COVID-19. Andresa AparecidaBerrettaaMarcelo Augusto DuarteSilveirabJosé ManuelCóndor CapchacDavidDe Jong https://www.sciencedirect.com/science/article/pii/S0753332220308155
Propolis, Bee Honey, and Their Components Protect against Coronavirus Disease 2019 (COVID-19): A Review of In Silico, In Vitro, and Clinical Studies. Amira Mohammed Ali 1 2, Hiroshi Kunugi
https://pubmed.ncbi.nlm.nih.gov/33669054/
Cannabinoids Block Cellular Entry of SARS-CoV-2 and the Emerging Variants
Richard B. van Breemen*, Ruth N. Muchiri, Timothy A. Bates, Jules B. Weinstein, Hans C. Leier, Scotland Farley, and Fikadu G. Tafesse https://pubs.acs.org/doi/10.1021/acs.jnatprod.1c00946